5 Ways To Remodel Your Kitchen On a Budget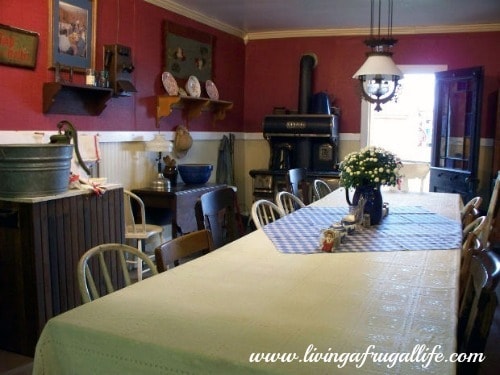 The following a is a guest post by Tina Jacobs
When you envision your dream kitchen, do you picture stainless steel appliances, a cord backsplash with matching floors, and a double range to die for? I know I do!  Regardless of if your dream kitchen is country chic or sleek modern metal, you can have your cake on that butcher block kitchen counter and eat it too. Setting and staying within budget can be difficult; however, with a little ingenuity you can make your dream kitchen a reality with minor rather than extravagant kitchen renovations. You can also go a little green by swapping out old appliances with the energy efficient variety, which may provide tax credits and incentives which can save you additional money.
Here are my five tips—from one budget hawk to another—on how to DIY the kitchen of your dreams on a budget.
5 Ways To Remodel Your Kitchen On a Budget
1. Make a list
I like to start any project by making a list of all of the things I need (not want) to create my dream kitchen. For instance, a pricy tile backsplash was replaced with a creative backsplash made from tiles that my husband and I collected while in Mexico City last year. Not only will this make the backsplash inexpensive, but every time I look at it I'll be reminded of a very special and personal moment in my life.
2. Slap on a new coat of paint
Sometimes refreshing a room starts with something as easy and inexpensive as a new canvas.  I'm referring to painting your kitchen to give it new life. A new coat of paint is one of the easiest and most affective kitchen updates. I like to stick with a fresh shade of semi-gloss paint so I have the option of washing stains and splatters from the walls or, however, you can use some wallpaper to accent one or more walls here as well.
3. Cabinet update
Getting all new kitchen cabinets can set you back 10s of thousands of dollars. However, if you plan to stick to your budget, you can always just get new doors for the time being. This quick and inexpensive and quick update will set the tone for the whole room. After all, the cabinet doors are what you see first. Of if you can't afford new doors, and your old ones are all dinged up, just remove the cabinet doors and fill with lovely china or rustic pottery for effect.
4. Update fixtures and appliances
A great update to your kitchen, one that will actually save you money over time, is by replacing your appliances with energy efficient models. In addition, you can improve the efficiency of your current water heater, washing machine, and dishwasher by installing a whole house water filter which will actually save you money on your utility bills by reducing the harsh chemicals in your water that cause the wear and tear on your appliances.
Be sure to check out our other frugal living tips!