How to Make A Homemade Tote for under $5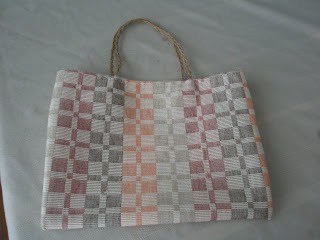 Total cost was just over $1. Supplies used: 1 Dollar Store Placemat, Heavy Weight Twine (found in hubby's stuff) and thread.
I folded in half and pinned as shown below:
Then I stitched up the two sides. I don't even know what the name of this stitch is, but I put it through and then pulled the thread through itself to make a tighter stitch. One side was stitched by my almost 6yo, they weren't perfect, but they most definately held!
Then, I cut six pieces of twine, put three together and knotted the end, then attached it to the open end, braided it, knotted the other end and sewed again:
I turned it right side out and Ta-Da!
And she loves it!!
Enjoy!