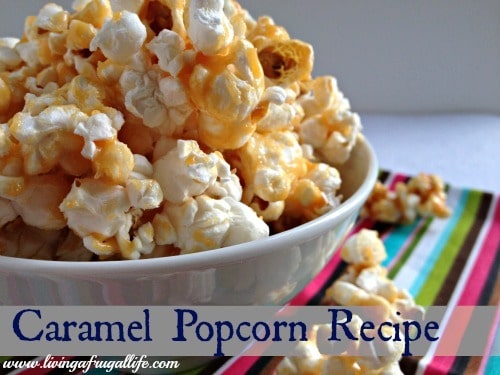 Carmel corn is one of those things that once you start you can't stop eating it.  This recipe is no different, but to is a healthy version of it that you don't feel as guilty eating.  Yes that makes it the best popcorn recipe EVER!
This carmel corn recipe makes a soft caramel that doesn't get hard as it site so it a great one to make popcorn balls out of or other recipes that need caramel corn.
It is SO good you will want to make sure you have someone to share it with so you don't eat it all yourself. 😉
Healthy Carmel Popcorn Recipe
Healthy Caramel Popcorn Recipe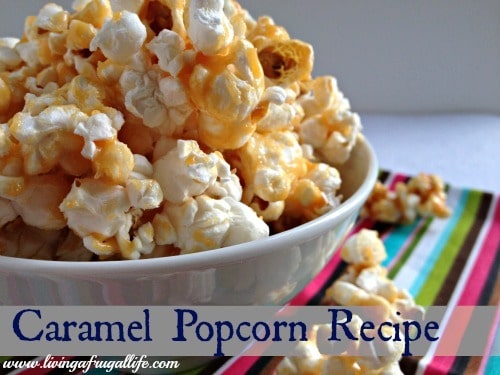 Creator:
Melissa @ Living a Frugal Life
Recipe type:
Dessert, Snacks
Ingredients
1 cup of Butter
2 cups Sugar
1 cup Powdered Whey Protein1/2 cup Light Karo Syrup
⅓ cup Water
1 tsp. Vanilla
⅓ tsp Salt
¾ tsp Baking Soda
13 Qt of Popped Popcorn (5-6 bags of microwave popcorn)
Directions
Mix together butter, sugar, powdered whey, karo syrup and water and heat until it reaches a light carmel color.
Remove from heat and add vanilla and salt and stir well
Add baking soda and mix well. This will cause caramel to bubble and expand
Pour over popped popcorn and mix until coated
Be sure to check out the rest of our healthy meals.