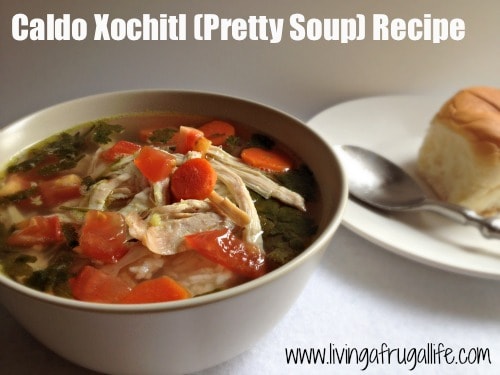 Since it has been REALLY cold here lately (like 43 degrees 😉 ) I thought I would make a soup recipe that I haven't made in a while.
This is actually a brazilian dish named Caldo Xochitl, but it means pretty soup and that is what we call it because there is no way we would be able to pronounce that… 😉
This is a chicken soup recipe that you can add just about anything too.  It is great for large families or groups or to make for a smaller group and freeze some for later.
My favorite part about it is that it a very healthy recipe and very simplistic.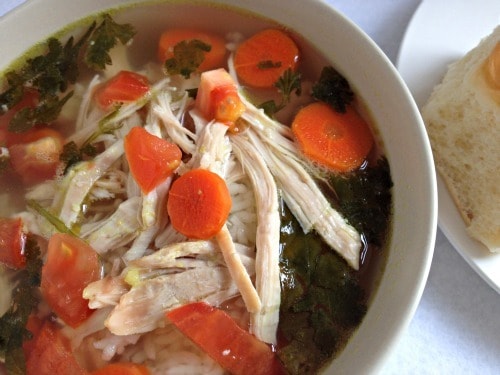 Caldo Xochitl Soup (Pretty Soup) Recipe
Caldo Xochitl Soup (Pretty Soup) Recipe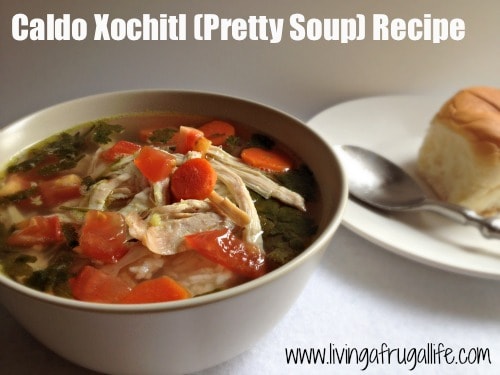 Creator:
Melissa @ Living a Frugal Life
Recipe type:
Dinner, Chicken
Ingredients
1 Whole fryer Chicken or Rotisserie Chicken
2 Cloves of Garlic
¼ Bunch of Cilantro Chopped if desired
½ tsp. black peppercorns
about 2 quarts of water
1 Medium Carrot
1½ Cups Cooked Rice
For toppings:
Lime Wedges
Fresh Cilantro chopped
Serrano Chilies Chopped
Green Onions Chopped
Tomatoes Chopped
Avocado
Directions
If using fryer chicken:
Simmer chicken and above ingredients for 1 hour
Remove chicken and let it cool then shred for topping
Take chicken off bones
Let broth cool and skim off fat
If using rotisserie chicken:
remove chicken meat from bones of chicken
Use remaining caracas to make the broth by placing it in the water with remaining ingredients for 1 hour
Shred chicken that was removed
Add chicken broth or bullion to increase flavor as needed
After broth is made:
Add carrots and simmer until tender
Serve in bowl with rice, chicken, and other desired toppings
What would you top it with?

Be sure to check out the rest of our healthy meals.