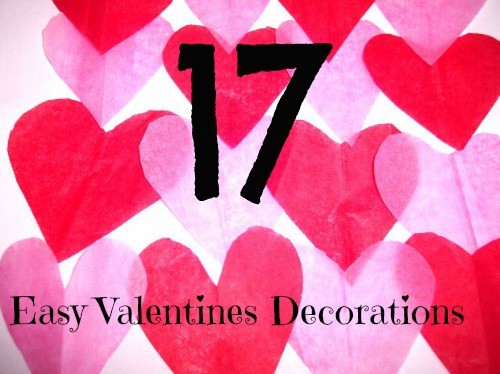 Valentines is a fun time of year and a really simple one to decorate for.  And while I wish we were decorating this year for it, I am just SO tired and I still have tons to do for the baby to come.  so I thought I would get a bunch of ideas together for you so you could do your easy valentines crafts and decorations done for the holiday!
Love the simple use of doilies!
Love these cute but simple blocks that could be used over again for a different holiday!
Love the colors of this simple wreath!
This is the cutest valentine holder I have ever seen!
Super simple and easy to make!
Love this!!!  So cute!!!
This is a great way to valentine up an item you already use to decorate.
Some quick and easy ways to decorate for Valentines with items you have around the house.
Super cute Valentine tree.
Love this tutorial on how to make this banner!  so many uses for it!
Another cute and easy wreath to decorate your door.
Love this!!!  Super easy and stores well because it is all fabric!
Super cute Pillow for your chair or couch!
Love how they reused something we all have from new years to make a very cute decoration that is super frugal!
Another cute and easy pillow that takes very little sewing to make!
Great simple paper craft to decorate easily with.
Cute set up for valentines to remind you of the love!
Sign up for free updates via email and get a FREE printable of "10 Thing You Could Do Today to Save Money on Your Household Budget"!