How to Make A Milk Jug Skeleton Halloween Decoration
Halloween would not be complete without a milk jug skeleton Halloween Decoration to put outside your house!  I initially saw this hanging outside a house a long time ago, and I have remembered it ever since! It is made out of gallon milk jugs and is a craft that is sooooo easy to make!  I made mine with my kids!  I love it!
My favorite part about this skeleton Halloween craft is that if some part of it gets bent or messed up somehow you can just take that piece out, cut a new one and fix it to use for years to come!  Here is how you make it!
Milk Jug Skeleton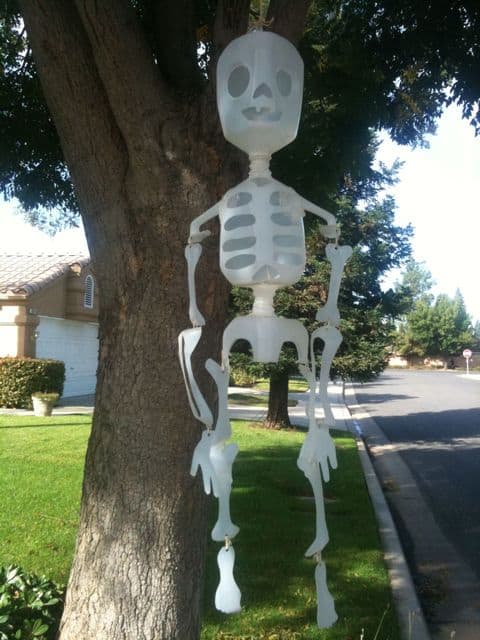 Supplies:
7 Milk Jugs
A Crayon for tracing
Scissors
String or twine or shapable wire
metal brads
Hole Punch
Clear Packing Tape
Glow in the Dark Paint (optional)
Paint brush (optional)
Instructions
Cut face and body while leaving bottles intact. When cutting the body be sure the bottle is right side up and the face is upside down.
Use all other jugs and cut out arm bones and leg bones.  Use your hand or a child's hand and feet to trace for the hands and feet of the skeleton
Hole punch holes in both sides of arm and leg bones and the tops of hands and feet
 Use string or wire to tie all the arms and legs together.
Take milk jug scraps and cut off the handles of 2 o the jugs to make the shoulders.  Attach body of skeleton and shoulders with metal brads.
Punch holes in the shoulder to attach arms and tie them on
Tape or tie head and body together
punch holes in the pelvis and attach legs
Cut off the spout of a milk bottle and attach it to the bottom of the body with glue or tape
Tie or tape the pelvis and the body together
This craft is so easy and fun to make!  If you want to add an extra dimension, you could paint the entire thing with glow in the dark paint so it glows at night and when the trick-or-treaters come!
Be sure to check out more DIY projects and Holiday crafts!  There are many easy ways to decorate for halloween like this paper bat craft!!