I always hated the stomach grumble in my tummy after opening gifts on Christmas.  I always wondered why we didn't eat breakfast first.  As I grew older we started to do family breakfast first and then opening gifts.  It made gift opening so much more enjoyable and I loved that I could just start to use my gifts rather than having to wait for dinner.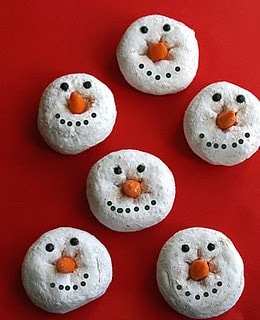 When we were married I told my husband that I wanted this to be the rule in our house as well.  But we quickly realized that That would not work with young kids.  They hated waiting for the presents and breakfast was always a whiny time we all hated.  So I realized that I had to change my idea of breakfast and either make something hand held that could be eaten while opening gifts or make something using prebought items like donuts.
Snowman Donuts: An Easy Christmas Morning Breakfast
So this year for Christmas breakfast I chose donuts.  These CUTE snowman donuts are super easy to make! And the best part is it is all store bought and quick to put together.  We made them in under 5 mins so they were easy to put together before bed so they were ready first thing in the morning! Here is what you need.
Ingredients:
1 pack of powdered donuts
Black icing or mini chocolate chips
Candy corn left over from Halloween or Thanksgiving (you can also use candy orange slices, orange mike and ikes, or any other orange candy that looks like a carrot)
Instruction:
Take powdered donuts and spread them out on a plate
Add black icing dots or mini chocolate chips for eyes and the mouth.
Add candy corn for the nose
Enjoy!
We always love Christmas morning with a full tummy and a warm heart!  These snowman donuts can be combined with some breakfast pastries and some hot apple cider for a fast and fun Christmas morning breakfast!
Check out more Frugal Recipes
Photo credit: Creative Gift and Party Ideas