Sweet and Sparkling Reindeer Food + Reindeer Food Poem
Does your family have a family Christmas party?  We have tried to do them in the past and it is so important to have activities for the kids to keep them occupied.  This Sweet and Sparkling Reindeer food is an excellent tradition for your next family Christmas party!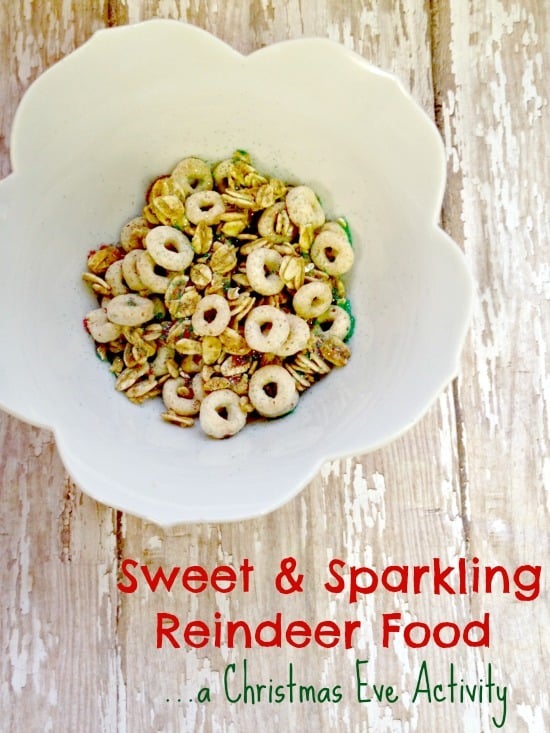 Do you have traditions like to leave cookies and milk out for Santa each year? Like many families, this may be a yearly traditional in your house that Santa has come to count on. But have you ever thought about his poor reindeer? After all, they do all of the work hauling Santa's sleigh all over the world. Surely they could use some refreshments too, which is why this project for Sweet and Sparkling Reindeer food is an activity you will want to try.
Family Christmas Party Craft Idea: Sweet and Sparkling Reindeer Food
Sweet and Sparkling Reindeer Food is a fun and frugal activity you can enjoy with your children on Christmas eve to make sure Santa's reindeer get some tender loving care too. Here is what you will need to make your own.
Supplies Needed:
1 cup of oats or granola
1 cups of Cheerios
1 tablespoon each of red and green decorating sugar. You are free to use glitter instead of sugar if you don't intend on eating the mixture (younger children might get curious and wish to taste) but the choice is up to you.
Small bowl or baggie
Directions:
Mix all of the above ingredients into a bowl. As you mix, why not have a fun and festive conversation about Santa's eight tiny reindeer? Can your child name them all? Who is their favorite? Once the mixture is well stirred go ahead and place it either in a bowl or baggie for easy carrying.
When night falls, it is then time to scatter your Sweet & Sparkling Reindeer Food out on the lawn. Children will love taking pinches of the mixture and sprinkling it out on the snow for the reindeer to find. The sparkly sugar (or glitter) in the mixture will look lovely sparkling against the white snow, and is sure to be noticed by reindeer flying high above looking for a snack!
As you sprinkle, you can recite this simple poem:
Reindeer Food Poem
Reindeer, reindeer way up high…
Aren't you hungry in the sky?
Come on down we have a treat…
It is crunchy, sparkling, sweet.
Just look for the sparkles…
They will lead the way.
We can't have you hungry…
On Christmas Day!
If you wish, you can even make up baggies of this mixture and attach the poem for gift giving. It is a frugal and festive little craft that is sure to bring about some smiles.
So this year, don't leave Santa's reindeer in the dust. Instead, whip up a batch of this sweet treat instead and they will forever be grateful!